Adding Equipment
---
When you firat login to the Asset Track system an initial screen similar to the one shown below will appear. To keep the on-line screens short the Asset Track system displays your equipment for one Category and Subcategory at a time. The categories and subcategories are arranged alphabetically. In the screen shown below the first category and subcategory combination is for the category "Air Compressors" with a subcategory of "Air Compressors."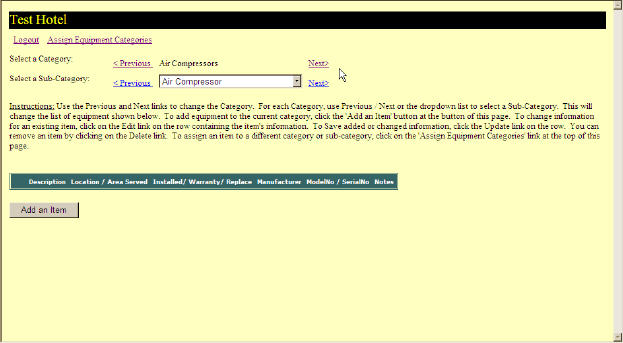 Since no equipment exists the lower portion of the screen contains only the "Add an Item" button. The Asste Track systen contians a predefined set of sategories and subcategories. To add equipment for your hotel use the controls at the top of the screen to select a sategory and subcategory.
To change the category click on the words Previous or Next on either side of the currently displayed category. As the category changes the contents of the subcategory list will also change. You can select a subcategory using Previous and Next or you can use the Drop-down feature and click on the desired subcategory.
Let's begin by adding a boiler to our hotel. Begin by clicking Next on the category row until the Boilers category is shown. A screen like the one below should appear.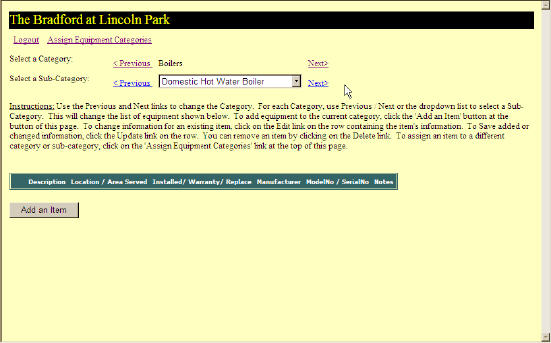 Since no boilers exist we will add one. Click the subcategory drop-down list, the small arrow in the text box, to select the appropriate subcategory. This boiler is a kitchen hot water boiler so we will click on that subcategory in the list. See the figure below.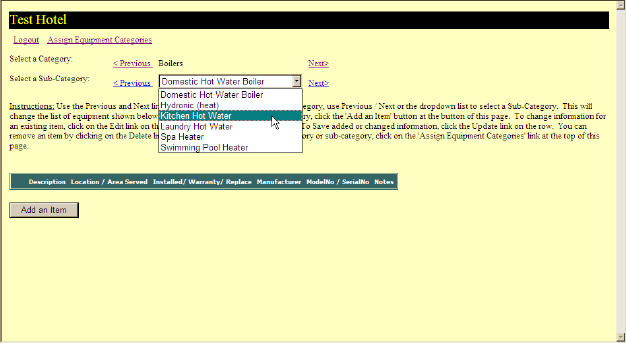 Clicking the "Add an Item" button will open a new set of text boxes in the lower portion of the screen. In these boxes you will enter the information which describes this particular boiler. The includes a description of the boiler; the install, warranty, and replacment dates; the manufacturer; model; serial number; and optional notes. The next figure shows the information describing this boiler. When everything is complete click on the word "Update" at the left of the equipment window; see the hand pointer in the figure.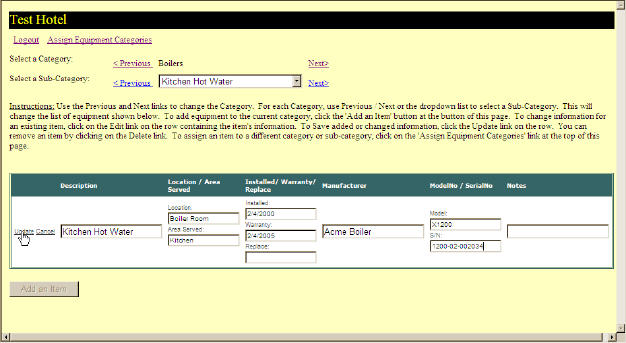 After clicking update the screen will refresh and show you the boiler that was just entered. To enter another boiler of the same type you can click the "Add an Item" again.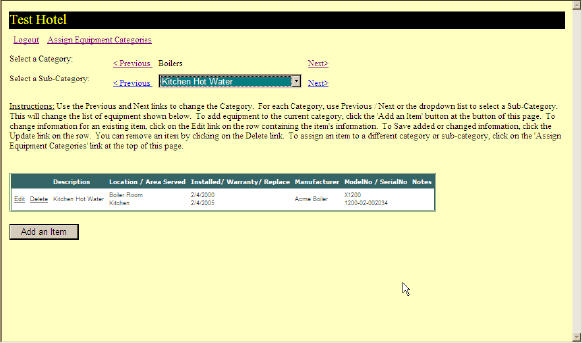 ---
© Copyright 2002-2004, Tsoftware --- www.Tsoftware.com